"Boost productivity and reduce costs with a video conferencing solution from Conferencing Solutions."
Positive user experience is key to a successful video conferencing installation.
Conferencing Solutions will make this happen for you and your business – tailoring a solution to your needs that's a pleasure to use and meets all of your unique requirements.
Through the highest quality video, audio and content sharing, experience the best video conferencing has to offer.
Conferencing Solutions provides you more than just a video conference system.
We understand that every business's requirements are unique and will make sure you get exactly what you need from your new video conferencing system.
We provide and install everything from a portable yet immersive system to a fully integrated audio visual solution – perfect for boardroom presentations and meetings.
High definition is only a measure of image resolution – but UltimateHD is an experience.
There are many video conferencing systems available but none provide the usability and quality of Polycom's RealPresence. Skype for example sounds like a cheap and fast work-around but users struggle with its complexity and poor handling of trying bandwidth conditions many businesses face. They become frustrated, give-up, and the benefits of video conferencing are wasted.
Polycom's interfaces are simple to navigate – even for new users – and consistent across their range of products. Video is sharp and fluid while audio is crisp and clear in conditions that leave other systems with choppy unwatchable results.
The user experience continues right through to managing your resources.
Scheduling meetings with your mobile and desktop users, as well as your conference rooms couldn't be easier, all handled through a PC application that continues the consistent intuiative user interface. Know when a user or room is available and create a call or share video content at the click of a button.
Expand your video conference network as your business grows.
Because Polycom is standards based you can easily expand your network as your requirements change. Increase the number of sites – add multipoint conferencing – add support for advanced content sharing for a higher degree of interaction.
We will also help you integrate your existing infrastructure such as Microsoft Outlook, Lync or Lotus Notes.
Take conferencing away from the boardroom, onto the desktop and out on the road.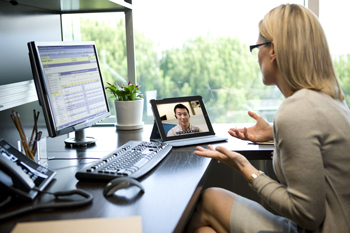 With Polycom's desktop, tablet, and smartphone solutions you'll have the ability to securely conference with mobile and remote users or anyone throughout your company who doesn't have access to one of your boardrooms.
This freedom lets you meet wherever and whenever you like.

All major operating systems are supported.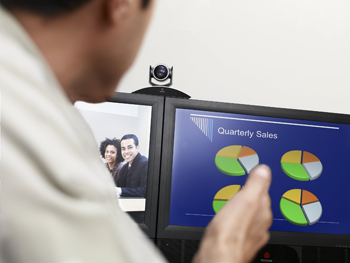 HD Voice allows you to distinctly hear every sound you need to and none that you don't.
HD Video provides the sharpest, clearest images in vivid, natural colour and full motion.
HD Content allows you to productively share your work in any application.

Here's how much other companies have saved with Video Conferencing.
Polycom surveyed over 300 companies to disover what Return on Investment and cost savings they received from their implementation of video conferencing. The graphs below detail the amazing results.
Enterprise
Average Savings with Video Conferencing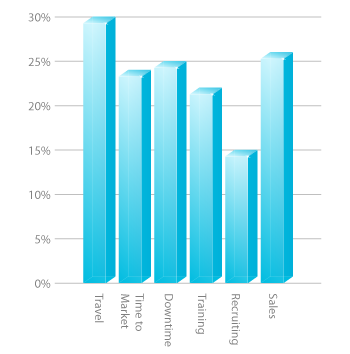 SMB
Average Savings with Video Conferencing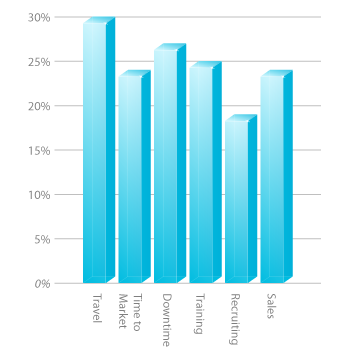 What do you require from your conferencing solution?
Select an option below to discover what we can offer you and your business.
Enterprise Grade Video Conferencing
Connect your team, no matter their location, and enable them to collaborate for improved communication, productivity, and efficiency.
One of our enterprise grade video conferencing solutions is a must have.
High Definition
Voice Conferencing
In a world where conference calls with partners, vendors, remote workers and global teams are on the rise, crystal-clear conversations are a must for productive meetings.
Polycom has the most advanced conference phones ever developed that are a pleasure to use.
Managed Services

Experience the benefits of multi-point video conferencing while avoiding the expensive infrastructure costs.
Conferencing Solutions can manage your multi-point meetings and end-points as offer other features such as ISDN access where required.